Chigozie Onyema- "Chance or Choice".
Image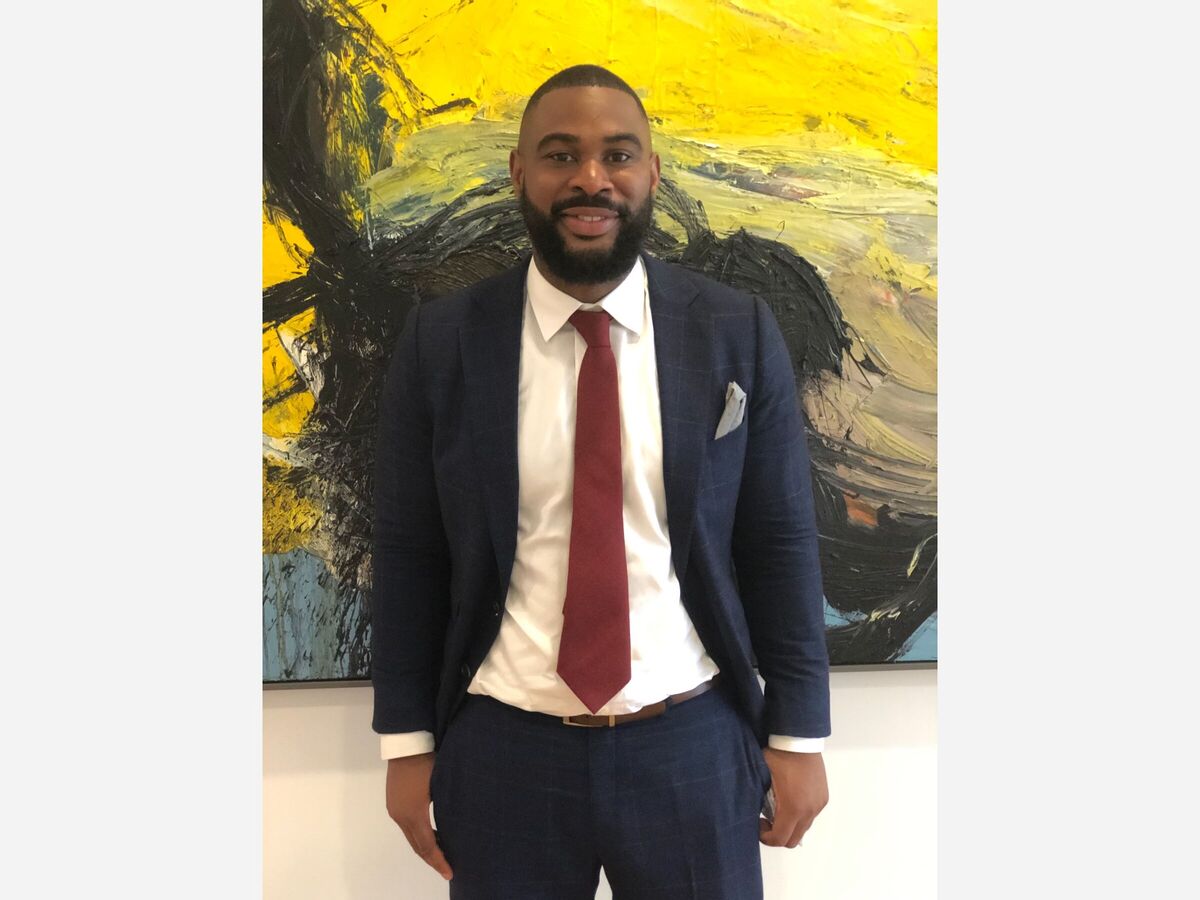 It was July 10th, 2021, the day was hot, heat rosed off the pavement,  although you could not see it you were sure to feel it.  Newark sky was clear. Walking onto 18th street, south orange avenue, I entered into Akwabaa Gallery,( co-owned by Laura Bonas Palmer and Mr. Ray Palmer), to finally make acquaintance with Chigozie Oneyma who is running for City Council in the West Ward of Newark NJ.
 
Who was he? Where did he come from? Why was he running for the westward? The questions and feelings were foreign but warranted. leaning into curiosity and entering into a ceremonious occasion I quickly took note of a youthful crowd. Anxiously waiting for my chance to meet Chigozie I settled in, soaking in the atmosphere, scanning faces, piecing together who was who that afternoon. I could easily blend in, that alone was appealing. Living in a city predominantly black yet culturally diverse, the need for representation of those in power is still necessary. Still, even with a shared feeling of some familiarity, it was not enough. The truth is, what we all may be wondering is,  is Chigozie Oneyma another politician or a man who will represent the people of the westward with full transparency and integrity.
It's so easy to regurgitate and echo back the problems that are in the city of Newark. Easy to say what one will do to implement solutions. Although one can empathize with the struggle of having to be the one who steps into a challenging role, having to tackle the issues you may not have necessarily created if elected people need to know with full conviction that when faced with the uphill challenges, that you remain unenticed by corruption.
  I needed to speak with him, to strip away, the suit, the tie. Capture a man. Dissect the features of his character with questions. The first impression, Chigozie Onyema is wholesome. The warmth of his greeting was comforting and did not undermine the nature of his assertiveness, confidence, Intellect, and ability. 
"Can you state your name on the record?"
"Chigozie Onyema".
"Can you give us a little, introductory on who you are, your background, culture, also where you came from?"
" I'm an attorney. I'm an organizer. I live in Ivy Hill in West Ward City in Newark. My family's originally from Nigeria. Both my parents were born there. My father moved to Ivy Ivy Hill Towers in the late 70s. I don't know the year, but I know Jimmy Carter was president because he reminds me of that or used to remind me of that. God bless the spirit. My family moved around Essex county. We lived in Ivy Hill, lived in Central Ward, eventually moved to Maplewood, where I went to middle school and high school."
The level of vulnerability on display was encouraging. Maybe it was the space ushering a feeling that was of course welcoming, hence the name Akwaaba. Coincidentally at the moment, the significance of place, name,  the possibility of where one's fate leads collided between reality and feelings. Starting with the name Chigozie-translation Gods Blessing. Recentering my thoughts, I listened to the man recapturing the story of his childhood. 
"I began organizing because when I was in sixth grade you enter into what they call the tracking system. So rather than just sort of being in a class with anybody at random, you were organized based upon ability. And so what I found was that all of my friends were attracted to lower levels, whereas myself and maybe one or two other folks, black folks were attracted to higher levels."
The tracking system, he spoke of is sometimes referred to as the ability grouping. Students were divided into classes and ranked based on their overall achievement level from above average to below average. This system of calculating students' intellectual capability was flawed. Racial biases disguised skewed and falsified statistics that lead to the creation of academic segregation in the American school system. It did not account for other variables, such as the many students who were placed in the lower levels, were black Immigrants. The complexities of language, culture, and variation to individual interest were overlooked by those who were in power. Chigozie Onyema expressed how having experienced that injustice was a redefining moment. A time where he felt a calling if you will, to step up. At that age, I could imagine the level and desire of passion-fueled with action, pulsating. 
He spoke of his teacher Mrs. Cooper, now formally Dr.Coopers who is a professor at Rutgers University. She encouraged him and explain the electoral process. This was a  decision made by the school board.  After receiving that information, he immediately took action. Already at the tender age of 18, Chigozie was running for the school board. Although he did not win, the events unfolding thereafter from the actions of the young man who was fully convinced, that yes, he could create a solution is a catalyst for what can be perceived as progressive leadership and altruism. One that questions the flaws of an imperfect system, exposes and demands not just change but requires accountability.  After high school, and taking time to decide his next move,  he went to community college for two years, next to Howard University. There he took his major in African American Studies (referred to as Africana Studies) and then went to law school at NYU. Right before the summer of his senior year of college, he went to South Africa to do a summer study abroad. He described the experience there as transformative. Learning about the apartheid and the struggles of political leaders such as Nelson Mandela, further amplified his decision to pursue law and think of ways he can use the power of law to create impact from a constitutional standpoint. Ending on the summarization of what lead to the subject of our encounter, I needed to peel back another layer of his political figuration.  
From a very young age, you were already ambitious. You had the foresight in terms of what you wanted to pursue career-wise. Would you say that your family had a great contribution to that? 

"For sure.For sure."
"My mother, my father, both of them had a huge impact. And not only the way that I approach the way I approach education, the way I approach my professional life, the way I approach organizing my life. My father's one of the most significant influences I've had in my life."
"I can remember. Every day we had homework, my father would line all of us up. And each person, he would review their homework with them, make sure they understood everything, and make sure that they got everything right."
Father, It was the way his eyes and mouth responded to father. I took note of the expression as the word stretched out into my imagination.  As he revisited memories, I participated, visualizing what home felt like on a typical day. Mother, It was the amount of affection that filled into each descriptive word, 
"ambitious, she's creative, she's thoughtful, she's you know, she's somebody who I think without knowing who created space for me to do the things that I wanted to do."
What are your overall political goals, vision for yourself, and the people in Newark?
My goals for myself. My goal for myself is to get elected to the West Ward Council seat.
Why do you feel like you're the best candidate to represent us?
I think we've been organizing for the last few years in this community. I think they're in the process of organizing. We've met folks, we've talked to folks about the challenge. And we think that in that process that we not only developed a sense of what we think the community needs but throughout my life, I think we developed some of the skill sets that would make a good councilperson. So I think whether that service is a staff attorney at the New Jersey Institute for Social Justice and working around criminal justice reform, whether that's working in the North Parking Authority's general counsel for the parking authority.
Do you feel that has given you a unique advantage?
"Absolutely. I think it gives me a unique insight. I think we've done the policy work. I think we've done economic development work. So these aren't things that are new to us. I don't think we've learned on the job in that respect.
I think it'll be a new challenge for anybody who becomes a new part of a newly elected official. But I think there'll be a little bit less on-the-job training for us given our background skill sets."
(Edited for reading purposes) to hear the full interview,  listen to our Word up Series at ORACLE.91.LIVE.
For more Information on Chigozie Onymea please: click here