Black: Mashell Black Solo Exhibition at Akwaaba Gallery
Image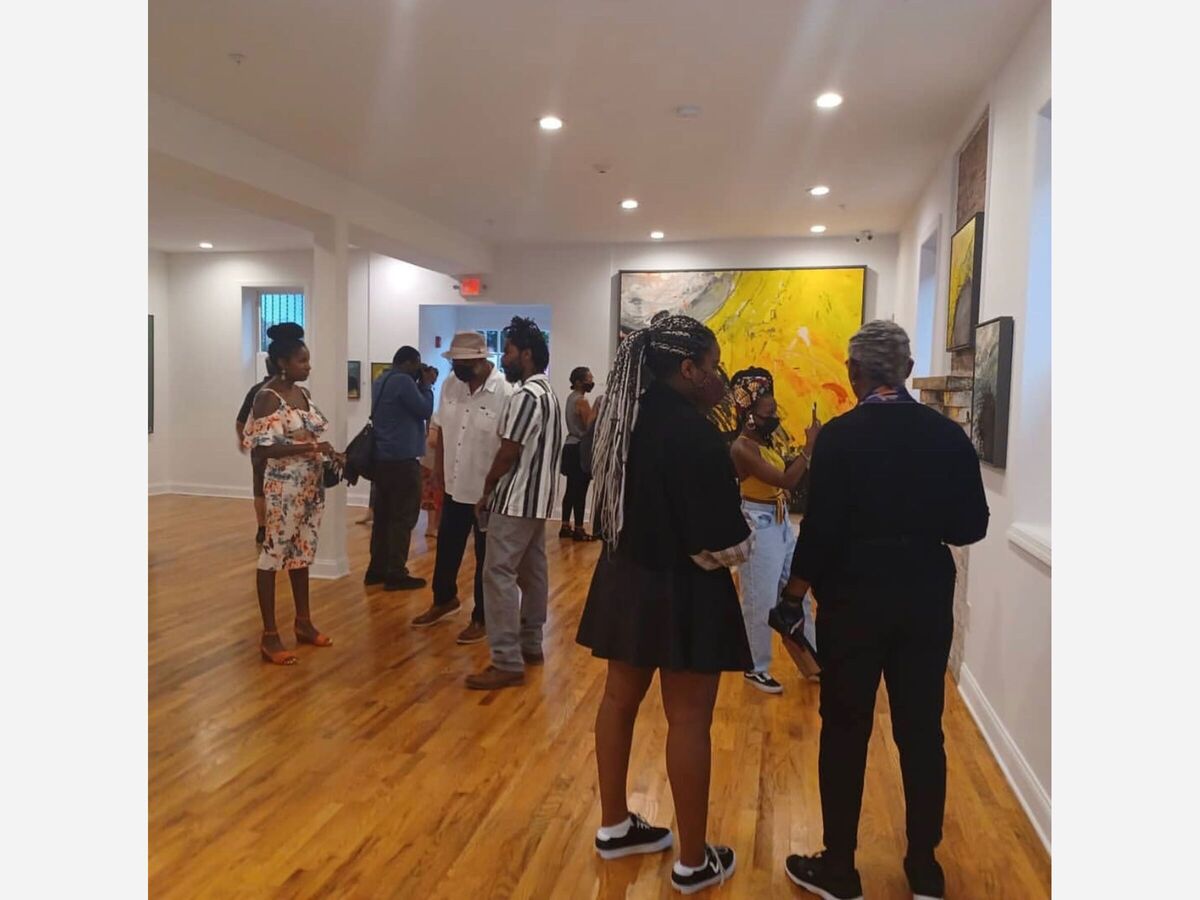 Mashell Black solo exhibition at the Akwaaba gallery is more than just a literal introduction, it was a bold and figurative statement. On Juneteenth, the color black was a proud adjective to life. Those who were present witnessed its transition from a still composition into a festive night.
 A community of people mingled. Artists and spectators of the arts sprinkling their way through the gallery onto the patio. Capturing a glimpse of Mashell Black conversing I inch my ear to capture words through the exciting sounds and continued to pass through. Displayed on the wall each larger-than-life piece swallows you in. Already 7 pieces were sold signaled by the infamous red dot. An involuntary whistle escaped, impressive. Walking into the gallery it's easy to see why visitors become comfortable. I watched them soaked in the evening with warm and friendly greetings. The same way an engineer makes a functional design,  Laura Bonas Palmer and husband Mr. Palmer (owners of Akwaaba) modern use of the space creates a balance and harmony that is lofty and elegant. People can physically interact with the artist, his paintings, and not feel claustrophobic.  The affirming spirit surrounding the space was a beautiful compliment to each other.
"What do you think about Mashell's art?" A simple question but in this environment, you're bound to meet interesting people, and you have no choice but to brace yourself for an even more interesting answer. This time I didn't expect the guest to give me a tour I had already taken.
"come walk with me, come on, come walk with me down the alley"
My mind echoed, "An alley?" It was almost like Charles was speaking in code, I could not decipher. It was too late, I had already started following him. Awkwardly weaving my way through a crowd, back to the entrance of Akwaaba. With a wave of his hand, a grin, and eyes large enough to be mistaken for that of a child, overly excited, Charles beckoned me over to stand by him with the quickest movement. Then we stood right in front of Mashell's painting.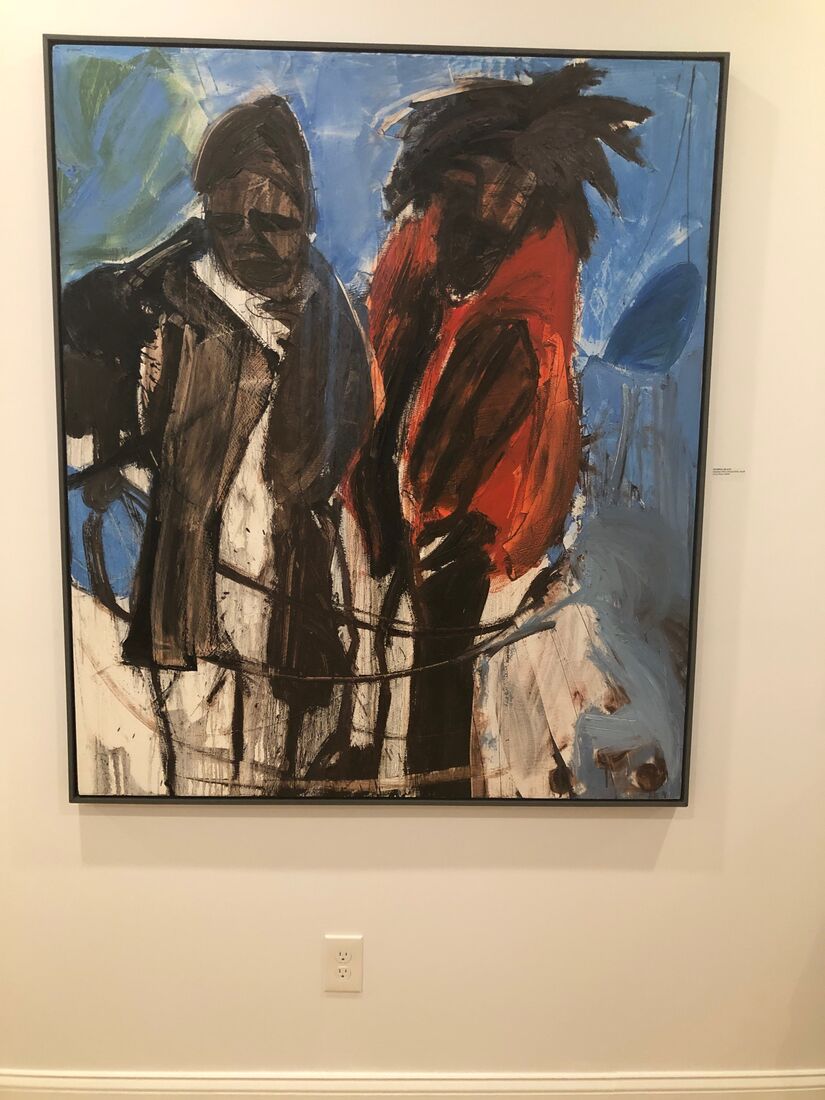 " Mashell is a man in the dark alley capturing shadows of people passing on the sidewalk, the busy streets, and he puts them on walls". - Charles
As you can imagine already leaning into his poetic waxing, I suddenly fell into the black void. Before my mind could capture what just happened, my face gawking, still processing what was said, he gestured with his hand and kept saying over and over;
"Can't you see! You're in a dark alley. Look at the black waves. This man is in the dark alley, and he's painting shadows".
At that moment my eyes peeled back and instead of searching for a figure standing still, I saw the unstill disposition to human life. The painted shadows became rebellious. There is a conflict between what are precisive strokes of paint lead intuitively and the metaphoric arrangements of fluid objects that are quickly moving without directions, under the guidance of skillful hands. Imagine trying to shape water, then you frame it by layering thoughts, feelings, and expressions like they were bones and skin.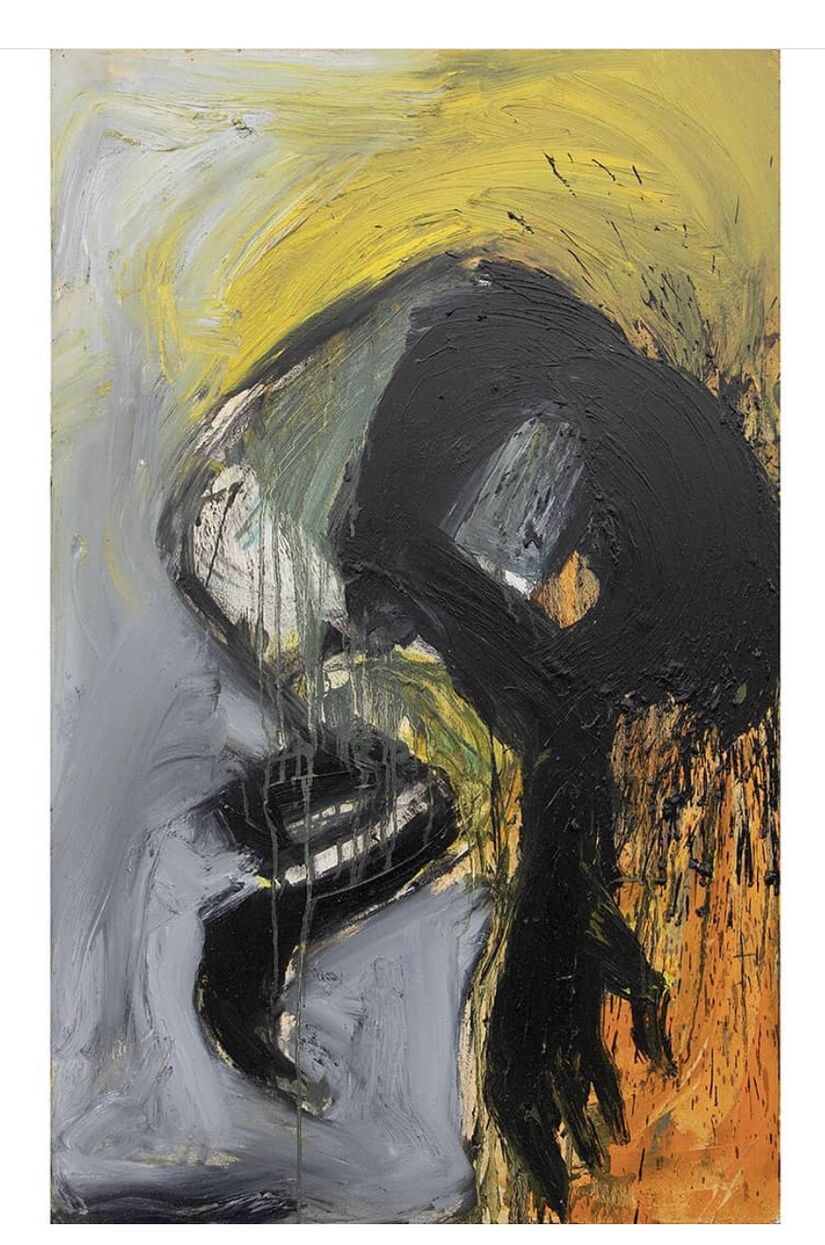 I casually asked the next guest what they felt or saw, and the vague familiar word of "abstract" kept recurring. Shying away from the term, abstract begins to minimize the scope of art, skill, thoughtfulness, and vulnerability displayed. I humbly accepted this translation of trying to fit paragraphs into one word. The artist visually challenges you to remain steady. The ambiguity to Mashell art varies not by the obvious size and quantity, but by the way,  it arouses you to ask questions.
Pocketing all the interpretations and rearranging them, there was no denying what you will identify as the common theme. Mashell Black's subjects of color and combination of images hold the contents of his identity. It ranges through his experience of his humanity, manhood, fatherhood, and being a husband. Disguised in the shade black he not only wears as his skin but his state of belonging, he interacts between worlds that are a blatant contrast to his way of existing both visibly and invisibly and how it is interpreted.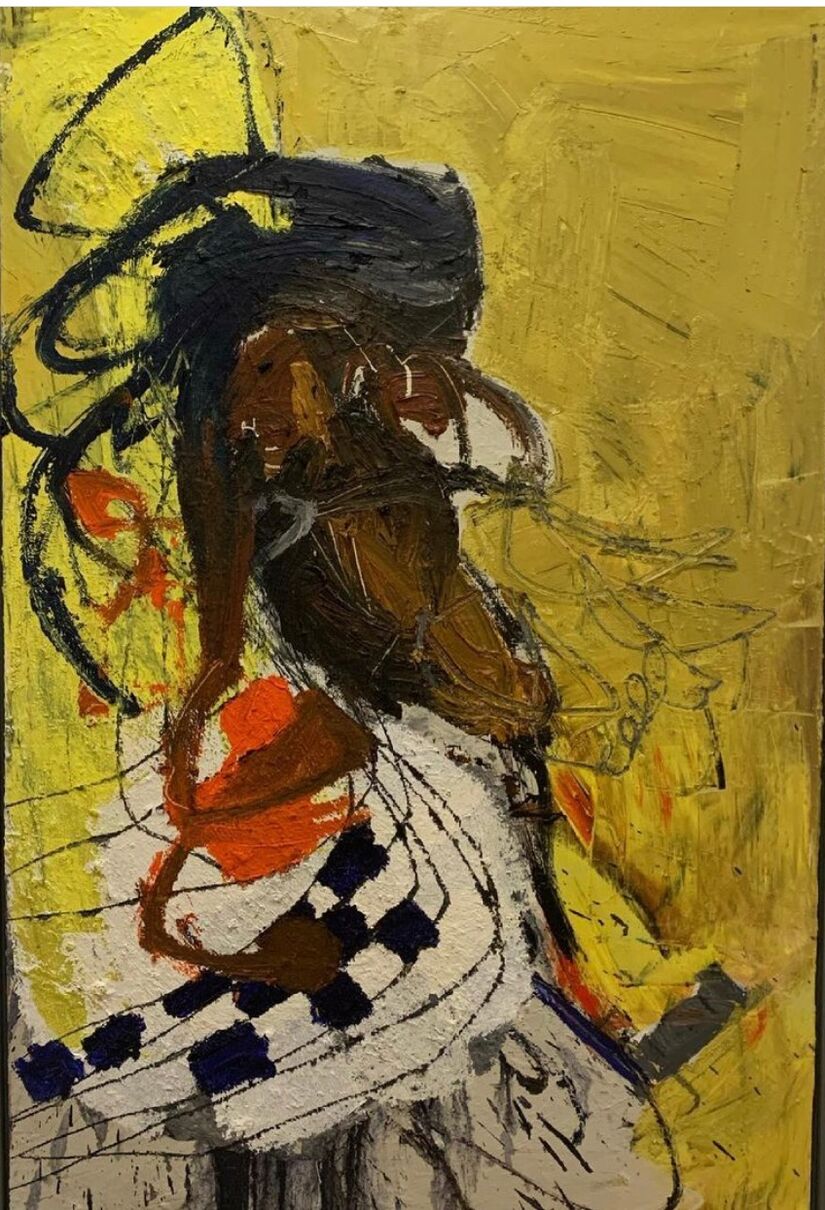 I saw the joy of a young boy with his face running through the gallery. Then I saw his mother smiling, brown and warm, dripping with a sweet hint of spice. She was short and vibrant-with the smooth coil of her tongue-reconnecting his Jamaican roots. She gave a summary of his childhood, the young Jamaican boy who then migrating to the united states at 14.
Until at last I laid eyes on his wife- regal and elegant- and wondered if he borrowed her beauty for his art. 
Bolted on the wall of Akwaaba are sacrifices. The more I spoke with them to understand the man who feels a sense of isolation and unpacks them fervently from an invisible plane to material. Mashell signature Black is a bold punctuation that holds it all together.